Villa Ephrussi de Rothschild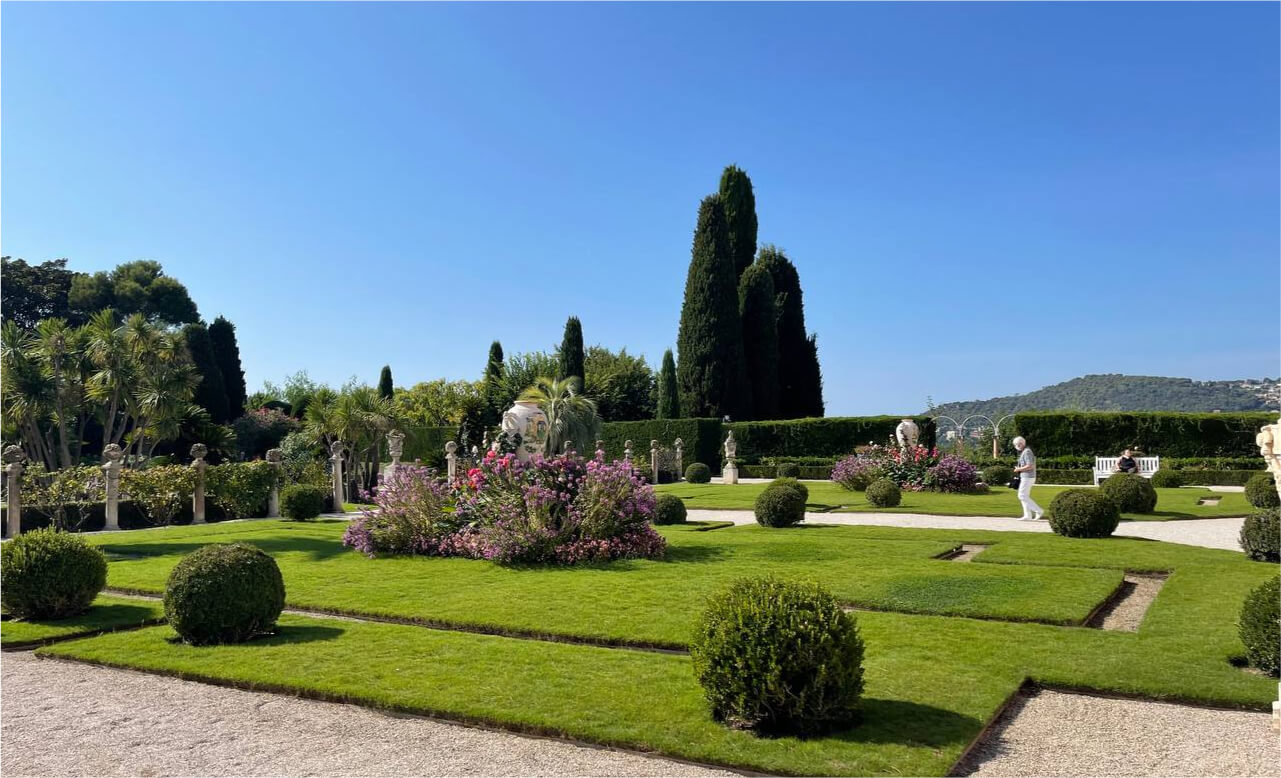 Let's go back a month in the past.
October…Monaco…Nice…Trip remember how it was.
Seeing is the main element and edged weapon of any professional landscape designer, without this skill you are unlikely to be able to generate new ideas and create actual/trend gardens.
Therefore, traveling is one of the opportunities to become a professional in your field, gain experience and get indescribable emotions.
Today for you Art Flora is a guide to the most beautiful Cape Saint-Jean-Cap-Ferrat.
Let's talk about the extraordinary villa located on this teardrop-shaped promontory and its gardens – Villa Ephrussi de Rothschild.
The villa is surrounded by gardens, with a total area of ​​about 4 hectares. The gardens of the villa are called:
"Spanish Garden" – includes a grotto, a gazebo and an artificial canal with aquatic plants;
"Florence Garden" – an alley of cypresses overlooks the Bay of Villefranche, and on the other side ends with a horseshoe-shaped staircase in which the grotto is located;
"Stone Garden" – a collection of bas-reliefs of secular and religious buildings;
"Japanese garden" – consists of a pond with a cascade and carp swimming in it, as well as a "dry" garden and a tea house;
"Exotic Garden" – decorated with cacti, aloe, agave, etc.;
"Provencal garden" – olive, pine, lavender typical of Provence;
​​"French Garden" – the largest garden of the villa, consists of a central reservoir with a fountain and side ponds; above the park rises the pavilion "Temple of Love", a copy of Versailles;
"Magnificent garden" – located next to the tea room, includes a terrace overlooking the Bay of Villefranche;
"Rose Garden" – grow varieties of roses named after Beatrice Rothschild and Princess Grace Kelly of Monaco.
Let's talk more about the French Garden
This Eden, shaped like a boat deck, is the largest of the 9.
A large canal runs along this garden. This pond hosts a musical show with water games. In summer, the center of the water ballet is a pond full of water lilies and lotuses. Fairytale show!
Renaissance cardinal vases adorn the park. As you walk, listen to the gentle sound of the waterfall pouring into the large pool.
At the end of the garden you will find the Temple of Love overlooking the waterfall, photo opportunities are guaranteed.
You also love traveling a lot?
Bookmark and share new travel ideas with friends.
Better to see once than to hear once.